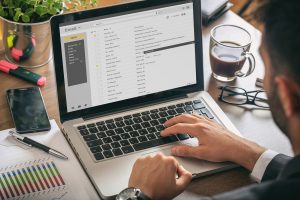 Email marketing remains a fundamental online marketing tool in spite of the increasing popularity of other communication channels, such as social media and app notifications. Years ago, with the advent of social media marketing, a few voices hurried to declare email marketing dead, but they were completely wrong! Ignoring email as part of your strategy will make you miss lots of potential customers. Email is more powerful than ever before and it is used effectively for building awareness, boosting sales, and improving conversions.
There are several reasons why email marketing works so well:
It makes your business more credible and it is perceived as more legit than other communication channels. People tend to trust more information they get via email;
It is more personalised than social media marketing because it is direct;
People check their email on a daily basis while social media can be forgotten for days in a row (some people avoid it on purpose because it can create addiction);
It converts better than social media, also due to its high open rate; the Australian open rate is estimated at 18.7%, indicating that audiences in our region consider they get valuable information via email;
Email drives visitors to your website – the average click-through rate for emails in Australia is 2.7-2.8%;
Email marketing in Australia delivers higher performance compared to other regions. For instance, the open rates are 18.7%, slightly higher than the global average of 17.8%. At the same time, UK has an average open rate of 17.5%, while the US has a 17% open rate.
Even if email marketing delivers some of the highest conversion rates, many businesses fail using it to its full potential.
The no. 1 reason why email marketing is failing is using Gmail or a similar email service to contact subscribers.
While Gmail and Outlook are excellent tools for personal email, when you need to send emails to hundreds or thousands of users, you will need to use a professional email marketing platform that enables you to do it properly. Before that let's see exactly why Gmail is not suitable to keep in touch with your potential customers:
When using Gmail or Outlook, all tasks are completed manually. Setting the time when to send an email newsletter to a group is not possible, and contacting hundreds of people individually is a huge loss of time.
No Efficient Management of Subscription Lists
Even if it is possible to create groups in Gmail, you cannot manage them as subscription lists. A professional email marketing platform should allow you to keep track of email contacts and send messages to segments of your list, but these options are simply unavailable with Gmail.
A big part of email marketing's appeal is sending personalised content. When people see their names at the beginning of an email, they tend to pay a lot more attention to the message, and you can use even more advanced features such as including a product they showed interest for in your email. Email marketing tools allow you to insert personal data automatically because manually inserting the name of each recipient is unthinkable these days.
No matter what marketing tools you are using to promote your business, you won't enjoy its maximum potential without measuring results and adjusting your strategy accordingly. Since personal accounts were not designed for bulk sending, they do not have tools for tracking metrics and it is impossible to know how many people have opened you emails, how many have clicked on the link inside the email, or how many have unsubscribed. Dedicated tools allow you to assess specific user interactions and gain valuable insights such as the best time and hour for your customers to send an offer.
What if you had phrased your email differently? Would the response from subscribers have been different? A/B tests may not seem like a big deal, but they are vital for your email marketing as they allow you to refine your campaigns based on customer response. You can use split testing to improve a variety of elements, such as subject lines, visuals, content, and calls to action. Your open rates and CTRs will automatically be poorer when you are not using this valuable tool to improve your email marketing.
No Automated Subscription Cancellations
SPAM acts adopted everywhere in the world oblige marketers to provide subscribers with the possibility to opt out of future emails. According to the Australian Communications and Media Authority, as a marketer you have obligations such as having the permission from the person who will receive messages from you, identifying yourself as the sender, providing your contact details, and making it easy to unsubscribe among others. Let's imagine you are using Gmail for email marketing; this means you would have to maintain a list of unsubscribes (kind of silly to do that in 2020!), you could be subject to huge fines, and you can get in the blacklist of your recipients.
Once your list of subscribers grows, you will have more emails to send every day. The problem with personal accounts is that they don't allow large email volumes, as well as having daily sending limits. Gmail does not encourage mass emailing and you risk being blocked if you don't adhere to the policy.
Bulk emails sent from personal accounts have a higher chance of getting to the spam folder. On the other hand, an email marketing platform has a strong reputation and tools to ensure excellent deliverability so you reach a high number of potential customers.
Not using a proper tool for email marketing in 2020 is a huge obstacle in your way towards success.
It is very ineffective and can seriously harm your reputation. Sending marketing emails using a personal account is just as obsolete as sending a telegram instead of making a phone call to announce an important event.
You do not need to worry about introducing a new tool to your business because today's email marketing platforms are easy to use, intuitive, and specially created to deliver the best results.
You can get your perfect email marketing platform today from Visual Marketing Australia, VMA-Emailer. Developed in Australia for Australian clients, this simple tool that works will help you take your business to the next level.
VMA-Emailer is your personal email marketing platform. It's customised software for every small, medium or large business! Our user-friendly email editor will allow you to easily create those personalised, original emails without wasting hours to get the desired look or making compromises.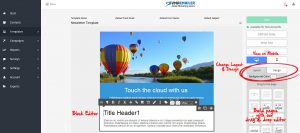 Email marketing produces the best ROI (Return on Investment) for organisations. Email marketing is effective and it outperforms direct mail, trade shows, cold calling, radio and other traditional advertising media by a long shot. It is easy, extremely affordable and for sure highly effective!
With VMA-Emailer, you can send professional email marketing campaigns such as newsletters and promotional materials, while tracking the results and managing your subscribers for as little as $8.30 a month. Yes you can do it all with this email marketing software!
When combined with one of our Online Video Advertising packages, you can even send 'Video Emails' to improve your online marketing strategy. Ask us how!
So, leave Gmail for personal emails and start doing email marketing like a pro with our help!