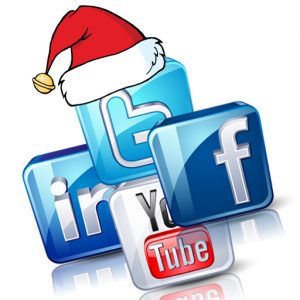 If you are a business owner, the Christmas period will be a very busy one for you. It if often the busiest and most vibrant time of the year for Australian businesses across multiple industries and it's important that every business is well prepared for the Christmas period so you can maximise your sales opportunities. Your social media marketing plan for the Christmas period is a vital tool  you need to adapt to the holiday season.
In this article, we'll show you how to get more engagement, more leads, and more sales during the holiday period by creating an effective Christmas social media campaign. You have a greater opportunity to increase your businesses' sales volume at this time of the year.
There are two reasons why you can increase your sales volume at Christmas:
People who look for gift ideas turn to social media and online searching
Social media plays a significant role in shaping opinions, preferences, and the shopping behaviour of consumers during the Christmas period.
Your business needs to seize this opportunity for a successful Christmas social media campaign and take the following steps:
Update your graphics
Change your banner and profile photos and make them into something appropriate for the season. However, keep your visual identity intact (don't use a generic Christmas image) so your customers can still recognise your brand.
It's a fact – people buy more at Christmas time. Make sure you intensively promote your best products and services and not miss the chance to sell more.
Christmas offers
Loyal customers expect from you something more than usual, so create a Christmas offer – like offering a discount if clients use the code "Santa" or something similar. Don't try to trick people by taking an older offer and wrapping it into a new Christmas coat because customers are smarter than expected.
Boost engagement using competitions
Nothing catches people's attention like competitions, and at this moment they are in the mood for fun. For instance, organise a contest for the most interesting gift wrap for your products and offer a voucher to the winner.
Be creative
Share the Joy of Christmas on your social media – get your posts a festive spin, share Christmas recipes, or ask followers what their most memorable Christmas moment was.
Christmas advertisements
You can also ensure more exposure for your brand at this time of the year through social media advertisements or online banners. Boost your marketing messages and let prospects know what you have to offer during this period.
Always be there
Don't forget to wish your followers Merry Christmas on Christmas day – being polite always pays off and some of them may be shopping even on the 25th.
Email marketing (Another Digital Marketing Strategy)
Email marketing remains one of the most powerful marketing techniques, and you shouldn't neglect it during Christmas season. People are looking everywhere for good deals and are more likely to open promotional emails with a Christmassy flavour.
Why all the trouble?
A successful Christmas social media campaign will generate more leads and sales, which means more revenue for your business. It will also increase your brand exposure during this busy holiday period. If you have a strict marketing budget a social media campaign will keep your marketing costs down as it is still incredibly cost effective compared to traditional marketing.
Need help with your Social Media Marketing?
Visual Marketing Australia offers social media marketing services and is happy to assist you during this holiday period for your social media marketing campaign. We know Christmas time can be very stressful for businesses and we make sure you get the gift your business deserves this Christmas – an excellent selling season.