How often do you shop online? You haven't thought about it, but probably more than 50% of your purchases are made through an e-commerce website. This fact should give you food for thought when it comes to your business online marketing. The Australian online marketplace has expanded exponentially in the last years. Here are some current online sales facts you should be aware of as a business owner:
Overseas sales have had a major impact on the online marketplace
Data provided by Australia Post shows that overseas sales count for 40% of all online purchases in Australia, compared to 25% five years ago, when the Australian dollar was higher than the US dollar. Apparently, dollar levels do not influence people's buying habits. But what does have an influence is online marketing, along with increasingly better e-commerce websites.
Australian consumers spent $14.7 billion on goods online last year
At the same time, online sales grew 11.5 per cent in Australia last year. One of the reasons is that online buyers are attracted by the convenience of online sales and the larger diversity of products compared to brick-and-mortar locations.
Investment in online offers makes growth in sales occur
Retailers like David Jones and Myer have invested significantly in their online offer, and have consequently seen their sales levels growing. In the US surveys show that consumers are already buying more things online than in stores and the use of smartphones to make purchases also determined acceleration in online shopping.
The digital-savvy millennials were the first group to propel growth in online spending. However, the group's influence spread and a broader majority of shoppers have become interested in online shopping. Since the audience of online shoppers is growing, providing them with the tools needed to purchase from your business online is vital and has been shown to increase profits.
What should you learn from these statistics?
Statistics prove why your business needs a website to sell on the online marketplace. Here are just a few benefits of using e-commerce applications and starting online sales: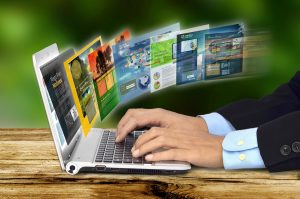 A website is a 24/7 storefront. You are open all the time instead of restricting your operations to a schedule of 8, 10 or 12 hours. More open time can increase the level of sales – many customers shop late at night.
You reach a wider audience. Remember that 40% of sales in Australia are made overseas. The opposite can happen as well – having people from abroad shopping on your website.
Allowing your customers to shop from anywhere, at any time. Your website needs to be mobile-friendly as most people search and buy products from their mobile devices.
An online impulse buy is very powerful. Impulse buys are caused by product encounters, both in-store and online. Window-shopping online, without an initial purpose of making a purchase, can easily transform into actual buying when potential clients navigate through your product categories and like what they see. Incentivisation like offering free shipping only after shoppers spend a certain amount is a highly-effective tool that in-store sales don't have. Furthermore, online retailers can control who they advertise impulse buys to and can target those exact impulsive persons that will be thrilled by loyalty programs or by the prospect of getting free shipping if they spend $50 or more.
Looking to implement online sales solutions to your business? VMA can assist with the development of a functional and attractive e-commerce website and advise you on all the expert techniques known for attracting Australian and international customers online.