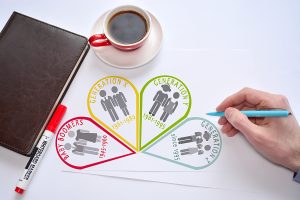 We are not all alike. This is something that all marketers should live by. That's why it is a must for businesses to take into consideration the behaviour of consumers from each generation — the Baby Boomers, Gen X, Gen Y, and Gen Z. According to an article published by the Journal of Behavioral Studies in Business, every generation have their own expectations, lifestyles, and values that sway their buying decision. By segmenting the target market based on the age group, businesses can make a better and more direct marketing approach to the consumers. This is called generational marketing.
Generational marketing focuses on addressing the diverse needs and behaviour of those that belong in one particular generation. Including the said factors in the marketing efforts of a company will result to better relationships with the consumers. In this article, we'll show you how to ace a generational marketing targeted approach.
Marketing to Baby Boomers
More often than not, the Baby Boomers are children of war veterans, and are inculcated with post-war positivism. Since most of them are characterised as workaholics and with distinguished careers, they are known to have a penchant for extravagance and materialism. The Baby Boomers are the ones who are more inclined to be on a shopping spree among all the generations. That's why it is a #goal for marketers to have them in their pockets. Having said that, earning the trust of the Baby Boomers will require extra work and a skillful tactic.
Baby Boomers are known to be loyal. Once you capture their hearts, their wallets will be yours forever. They are less conscious when it comes to prices as long as they are getting their money's worth. The key in doing this is by building value and adding experience in your products. This presents a great opportunity for businesses to upsell their items, but only if the product is worth every buck.
In terms of marketing strategies, the Baby Boomers are more susceptible to traditional marketing techniques and sales tactics. In addition, they are more inclined to make a purchase if they will have a direct contact or communication with the marketer. The majority of the Baby Boomers are technology savvy. They use their gadgets and the Internet when researching for a product or brand before they commit to it. That's why businesses should also invest in broadening their digital footprint.
Marketing to Gen X
Those who belong to Generation X, or the Xers, were raised during the economic depression. Research shows that 63 percent of the Gen X have families or in their child-rearing years. In terms of financial commitments, they allocate most of the household's budget for education, mortgage, and retirement. This is why Xers are known to be price sensitive.
Marketers consider the Gen X to be the most challenging group to pin down. This may be stemmed from the group's economic survivor mentality that hard work is important. Xers are also attributed with high education. In fact, they have one of the highest university attendance and graduation among the generations, which is the reason why you need to convince them of your services or product claims with good research and customer testimonials. Bottom line: they are data-driven.
According to a research from American Express, the Gen X has the greatest spending power than any other group. If you want them to open their purses for you, you need to be transparent and authentic. The Xers are not too keen with hardcore sales tactics. Just be honest with your intentions and be forthright with your facts.
One of the most effective and efficient ways to get your message across this generation is by combining traditional marketing with digital promotional tools. Since the Gen X appreciates direct mail, businesses should include them in the mailing list. Whether it is a coupon (which they love by the way) or a product update, as long as you got something new and exciting, you got to communicate it to them!
Marketing to Gen Y
The Gen Y, or the millennials, are the kids of the Baby Boomers. They grew up when technology was starting to revolutionised everything. As such, the Gen Yers are predisposed to respond to digital marketing rather than your traditional advertisements. In this age of technological advancements, this may seem like a cakewalk, but only if you know how to appeal to them.
An ideal generational marketing strategy to the millennials would be for marketers to be genuine and to capitalise on the experience and not on the actual product. Due to the proliferation of fake news, click baits, and online distrust, the Yers prefer the word-of-mouth-kind of marketing. They prefer reviews and opinions from peers and user-generated review sites. What brands can do is to take advantage of social media and use it to build trust and good relationships with the consumers. One way of doing this is to create a message that will stand out from the thousands of generic messages that they receive from various businesses. Get creative with the content and think outside the marketing box. It would also help if you use your company's social responsibility. Millennials love the idea of helping a community each time they make a purchase.
Timing is also essential when it comes to target marketing towards the Gen Y. Because of the nature of the Yers to be connected and updated all the time, marketers should be up-to-date with what's new with their products and/or services. It is also a must that they should be quick in responding to what's going on online.
Marketing to Gen Z
Data from Fast Company shows that the Gen Z will account for 40 percent of all consumers by 2020. The Zers are those born after 1994 and are considered as the new breed of customers that marketers should watch out for. They are also the most tech savvy among all the generations, which is why they can research literally about everything in just a matter of clicks and swipes.
When preparing a generational marketing towards the Gen Z, brands should steer clear from the sales gimmicks and tactics of the past. Instead, marketers must work on generating a message and content that highlights the value of their products or services. In short, what is in it for them?
According to Forbes, the Gen Z is a benefit and results-driven group. They care about what you can do to help them. Instead of selling the product or service, put emphasis on the success that your brand can give. This does not only address their needs, but also shows how well you know your target market.
The Zers like to be in more places than one, which is why they use various social media platforms depending on their mood and shopping journey. Market research shows that the Gen Z uses Instagram when looking for cool new products. But when it comes to shopping recommendations, they rely heavily on YouTube. With this in mind, marketers should be able to engage this market with the right platform and a clear message.
In conclusion, every generation has their own different attributes that influence their purchasing behavior. By learning the ins and outs of your targeted generation and what media they use it will really help the effectiveness of your marketing campaigns to reach the right audience by using the right mediums.