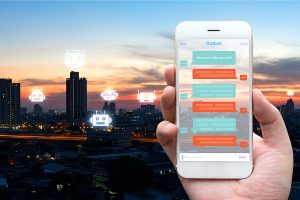 As a business owner you start to become more and more aware that in the era of online marketing, gaining competitive advantage is not easy. One of the most important aspects is customer service quality, which can make the difference between success and failure. However, ensuring customer service at the highest standards can be difficult sometime for the following reasons:
Having trained and specialised employees for your customer service department is costly;
It can be hard to predict your customer service needs – one day you may have a couple of inquiries from clients and the next week you may be flooded with phone calls and emails. So the question is how can you make your customer service more efficient?
The answer to these problems may be chatbots, which are on the rise for online marketing in 2018. A chatbot is a computer program designed to simulate conversation with human users, mostly over the Internet and via auditory or textual methods. You too might have talked to one of them, but have you thought about the benefits they could provide to your business? Here are some advantages to consider:
Chatbots nurture leads
Chatbots can handle the nurturing sequence of the lead generation process, and when your prospect proves to be qualified, the chatbot can notify you so that you jump into the live chat and close the sale. You don't waste time with potentially unqualified leads and you come into the conversation at the perfect time.
Providing immediate customer service
Chatbots are available 24/7, unlike customer service staff. A computer program for simulating conversation with customers can do the job of a customer service professional, and without any delays, not to mention majority of customers hate to wait on the phone until a representative is available.
Offering improved user experience
Chatbots have access to customer information, which makes them more likely to recommend items that are in line with the consumer's interest. A human would need considerably more time to find and process that information, and furthermore, to make recommendations.
Providing analytic tools
These virtual customer service representatives can be programmed to track consumer purchase behaviour. They generate information from conversations, gather data based on a user's clicks, and predict the circumstances where they would buy. No need for your employees to fill in Excel files with information from customers and look for consumer behaviour insights!
Engaging with customers on social media
Align chatbots with your social media marketing efforts. These computer programs can send follow-ups or promotional messages to customers every few days or weeks. You can get bots to send them articles, testimonials and new products which can have a significant impact on your sales.
There are many chatbot platforms currently available, such as Zoho Sales IQ, the Facebook Messenger platform, IBM Watson, Chatfuel, Botsify, Bottr, and many others. If this online marketing tool is new for you, we can help dispelling the confusion and choosing the right platform for your business needs. At VMA we constantly update our knowledge of the latest online marketing tactics and focus on solutions that are efficient and bring a high return on investment to our customers. Contact us now and let us know how we can help!