The beauty industry is a continually growing and dynamic sector. New trends are emerging every year. Beauty industry digital marketing allows for improved reach and increased opportunity for these businesses to market themselves online. This enables them to showcase their work, keep customers up-to-date, reach new customers and even allow for more direct booking. Implementing digital marketing allows for increased flexibility and innovation – even during unprecedented and challenging years like 2020.
Regardless of world events, the value of beauty products comes from how they make people feel and a growing investment in self-care. The beauty industry is expected to grow by an average of 5.2% each year from 2020 to 2023. The annual transaction volume of beauty products on Alibaba.com increased by 100% year-on-year in the 2020 fiscal year, showing an increased interest for beauty products.
Keep on reading to discover the latest digital marketing for beauty industry trends, and how you can use them to grow your beauty business!
Create an Online Community
There is a growing trend for customers to connect with their favourite brands more than ever. Consumers want to become a part of the brand they like. In turn, this allows those brands to develop better relationships with those consumers.
One of the best ways to create this connection with customers is to build communities of fans using social media platforms. This can be achieved by encouraging customers to share their feedback, offering beauty tips or asking customers about their own beauty habits, and creating special promotions for members. The goal is to build lasting relationships to retain customers and cultivate their loyalty.
Using Engaging Visual Content
The beauty sector is a highly visual one. Representative and high-quality images and videos are vital if you want to promote a certain look and build your brand. Use stories and live streams to sell to potential customers while also enabling the audience to reach back to you. Investing in quality photography and videography will also greatly benefit digital marketing efforts for beauty businesses.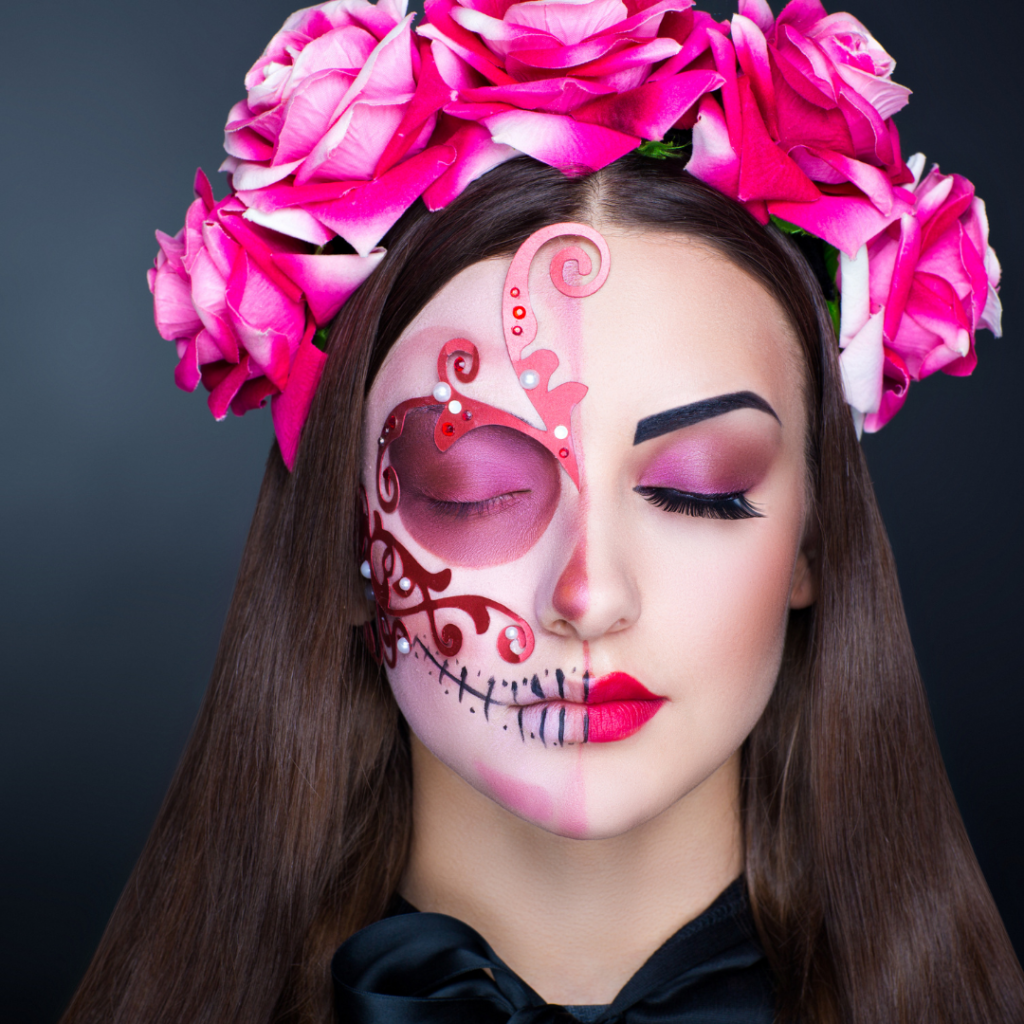 Offer DIY Solutions
Millions of people found themselves unable to maintain their regular beauty routines in 2020. Things such as dying your hair or manicuring nails were impossible for an extended period.
Customers still wanted to maintain their looks, while companies were looking to keep sales at a high level. As a result, how-to's and tutorials gained more traction than ever. Mini beauty lessons have flooded Instagram in 2020 and 2021, encouraging everyone to get creative and be able to talk self-care at home.
One great example of a company who thought outside the box to adapt to the pandemic was hair brand Bleach London. This company launched a platform called 'Bleach Hair Party' acting as a digital salon. Customers were able to get advice from the brand's representatives to be able to buy the right hair dye and apply it correctly.
Use Augmented Reality and Virtual Reality to Allow Customers to Test Beauty Products
The tendency to research products online and to even test them in a virtual environment has grown rapidly in the last years. Many beauty brands, such as Sephora, made efforts to mimic the process of trying on their products.
Augmented Reality (AR) is adding to what already exists, while Virtual Reality (VR) enables you to immerse in a simulation of an environment by using a headset.
Use of AR and VR seems to work as many brands have seen an increase in overall conversions of more than 25%!
Focusing on Safety and Hygiene-led Products
2021 beauty industry trends show that consumers have started to prioritise financial savings more and began to spend less on vanity and cosmetic products.
The beauty industry is somewhat returning to its basics, with the market staying stable for rescue and everyday products (hand sanitizers, soaps, disinfectant wipes, shampoo, conditioner, and deodorant). Products such as facial skincare, nail care, and perfumes have sold less than usual due to previous restrictions. Moving forward, social media has been perfect to let your valued customers know what Covid-safe steps you are taking as a business. This highlights the advantage of social media platforms for sharing the latest news to your followers.
Add Testimonials to your Web Pages, Social Media and Online Listings
The traditional word-of-mouth marketing continues to work as a powerful marketing tool for beauty businesses, but nowadays it is perfectly complemented and optimised by product and service testimonials online.
What other people think and their experience with a product or service significantly affects a customer's decision-making process. People have more trust in their peers than in advertisement content and they will trust those authentic, stellar reviews more than even the highest quality promotional videos. Encourage happy customers to share their opinion online; a link to the review section will ease their task and make them more-likely to do so.
Collaborate with Micro-Influencers
Micro-influencers are bloggers ( and vloggers) and celebrities with expertise in a certain field. These people have anywhere between 1,000 and 100,000 fans and are often used for digital marketing for hairdresser and other types of beauty industry digital marketing.
Brands are currently relying on micro-influencers rather than well-known personalities because the latter are too difficult to relate to and can lack authenticity. Audiences trust people who have the same struggles as them and listen less to celebrities with perfect skin and an uncapped beauty budget. Beauty companies often use top influencers to boost brand awareness, but hire smaller influencers to trigger purchasing decisions.
User-generated Content
This method used for every sector from makeup to nail salon digital marketing works for the same reason. Audiences trust people like them and do not like to be told by businesses what to buy. Marketing that doesn't feel like marketing tends to be the most successful. Content created and posted by fans is the best billboard for your business. Smart beauty brands encourage followers to tag themselves in photos in order to obtain a steady stream of content that persuades even the most skeptical customers.
Digital Product Launches
When Rihanna's beauty brand Fenty launched in 2017 with a 100% digital campaign, this marketing strategy was seen as ahead of its time. The campaign had been built on a "beauty for all" concept and used tactics such as communicating body positive messages, using industry professional reviews combined with content from fans, and offering video tutorials.
Who would have said back then that virtual events would become the norm and not the exception? Either way, the Fenty beauty brand has showed us that it is possible!
Using Data to Create Better Customer Experience across Platforms
Companies have learned how to track customer behaviour across different platforms and use the information to improve their digital marketing. Social networks and other communication channels provide insights to beauty brands, enabling them to develop new products with customer feedback in mind.
Efforts to create personalised and customised brand messages pay off. They are proven to significantly increase customer engagement and loyalty. At the same time, you are creating a sense of community that everyone is craving these days.
Giveaways and Contests
People like gifts and the prospect of receiving something for free will always be a strong incentive to share brand content with their friends. Social media contests are also highly-effective as a part of beauty industry digital marketing. Just scroll down your social media feed and within seconds you will see at least one giveaway post with lots of likes and comments from users.
How VMA Can Help
Most of the digital marketing for beauty industry tactics described above may seem very natural and easy to implement. However, they do require a certain amount of work. It's essential that you have a strong foundation in order to execute these strategies successfully. VMA can help you with the most significant digital marketing components, from start to finish:
Graphic design/Branding
We can help you create your brand by developing the visual aspects of your business. We offer logo design, price lists, brochures, social templates. These elements work both with traditional and digital marketing.
Photography & Content
Source your product photography and videos from us to outline the benefits of your products and services like a pro!
Web Design
Firstly, having an up-to-date website is vital in order to create an excellent user experience. Our websites feature all the elements you need to attract and serve your customers. We include innovative aspects such as booking systems, video, blog sections, etc.
Paid Ads & Boosted Posts
Facebook and Google ads will deliver your brand message to qualified prospects that are most likely to buy from you! IFacebook is especially great due to increased targeting capability.
SEO/Local SEO
We cannot stress enough the importance of getting found locally, asking customers for reviews, and keeping on top of updates. We can reduce your long hours of work by helping with search engine optimisation and listings.
Social Media Marketing
Managing reviews and building relationships. For instance, sharing beauty tips, posting before and after makeovers, showing promotions/offers, posting shoppable posts, and booking via FB.
Email Marketing
Use this powerful tool for promotions/offers, latest news, beauty tips, latest products, team member updates, etc. Build your relationships and make sure people don't forget you.
CRM Systems for Client Tracking
Never lose a valuable lead and automate your sales processes to increase your business success exponentially! CRM systems are essential in the service industry. CRMs allow you to track customer appointments, services they use, improve marketing efforts and accumulate data for future business opportunities and potential growth.
Contact VMA for all these services and more today!