Branding

& Graphic Design Gold Coast

Get Your Business Noticed and Stand Out From the Crowd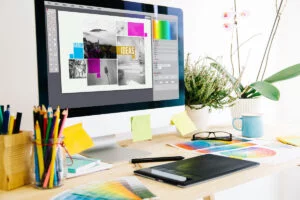 Visual Marketing Australia now offers a service of Graphic Design in Gold Coast to set your brand apart from your competitors. We provide the talent, skills, and experience needed to create impressive visual communication, enabling you to promote your brand and sell your product/services.
Everyone can do graphic design at various levels, but effective graphic design can only be achieved by a professional. When you work with our Gold Coast Graphic Designer, you will benefit from their talent, artistic abilities, and computer skills and get the visual content that truly represents and promotes your business. The most important reasons why your business needs graphic design are:
Creating a good logo that becomes a tangible asset for your company and represents it effectively at every stage of business development;
Building a brand that sets you apart from competitors and is easy to recognise by your potential and existing customers;
Looking professional, as you need to build trust and credibility with your audience before making the final call to action.
Why VMA Graphic Design?
From website concepts to new logo or branding creation, the creative team at VMA can assist your business with all aspects of branding and development through to marketing. We communicate effectively with our clients from initial idea to design to production & launch. Why call to VMA Gold Coast Graphic Design Agency services for your business?
We are a unique creative full service Digital Marketing agency located in Bundall Road in the Pegasus Centre offering a full turnkey graphic design solution, serving both local clients and business from all over Australia.
We are experts at re-branding your business with a stunning logo, website, and other graphic design services to set you apart from your competition, thus providing a full online marketing solution to our customers.
We offer professional graphic design services from conception to completion.
We understand all the facets of graphic design, and we make sure the branding aligns with your overall online and offline marketing and business strategies.
We can offer a wide range of complementary services, from web development to content writing and from SEO to social media management, so your entire marketing is handled by the same team of experts and remains consistent.
What We Offer

At VMA, we focus on ensuring the highest level of satisfaction and the best results for our clients. We create for our customers' professional marketing collateral that will communicate their messages to their audience in a compelling manner.
We have an experienced and creative in-house graphic designer that is trained in the field and is part of a team of marketing professionals who can handle every aspect of your business promotion.
Gold Coast Graphic Design Services Provided:
Logo Design
Branding Design & Development
Marketing Collaterals including brochures, flyers, business cards, ad graphics etc
Custom Website Design
Why settle for old, dull and ineffective graphic design when you could get for stunning, high-quality, and eye-catching graphics that will resonate with your target market and existing clients? VMA's Gold Coast graphic designer can boost your brand and business through creative flare and extensive marketing experience. Contact us now at 1300 158 708 or through our online Contact Form!